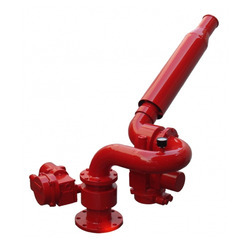 Aqua Foam Monitor
Technical Specification:-
The max capacity: 2000L/min, 2400L/min
The max pressure: 16bar
Intel: Flange DN50 PN16, DN65 PN16
Outlet: Screw thread
Optional inlet flange:DN80 PN16/ANSI2″/ANSI
Other Details:
Foam Monitor 1000-1500-2000 GPM SS316
Aqua-Foam Water monitor with Self-Inducting Nozzle AS PER UL (1000-1500-2000 GPM)
The manually operated Self-inducting non-aspirating Foam Monitor made of Stainless with pickup tube.
Grade SS-316, capable of discharging 1000 GPM (3800 LPM) to 2000GPM (7500LPM) to at 100 psi (7 bars) inlet pressure over a range of 64/70/75 meter in the horizontal direction.
Flange size 150 NB" , Foam Monitor Size 5" .
Foam proportioning 3 % is done with help of Foam Inductor placed within the Nozzle.
The Foam Monitor has the facility for converting Water/Foam jet to fog and vice-versa very quickly and easily, even during continuous operation.
Foam Monitor is provided with self-locking swivel gear bearing(MOC : Bronze) for smooth rotation in the horizontal and vertical direction through hand wheel operation even under high operating pressures.
A single firefighter can manually operate the Foam Monitor with large flow capacity, long-range capability.
The monitor assembly is designed to withstand the nozzle reaction force experienced during the operation of jet/ fog.
Minimum Order Quantity: 10 Piece