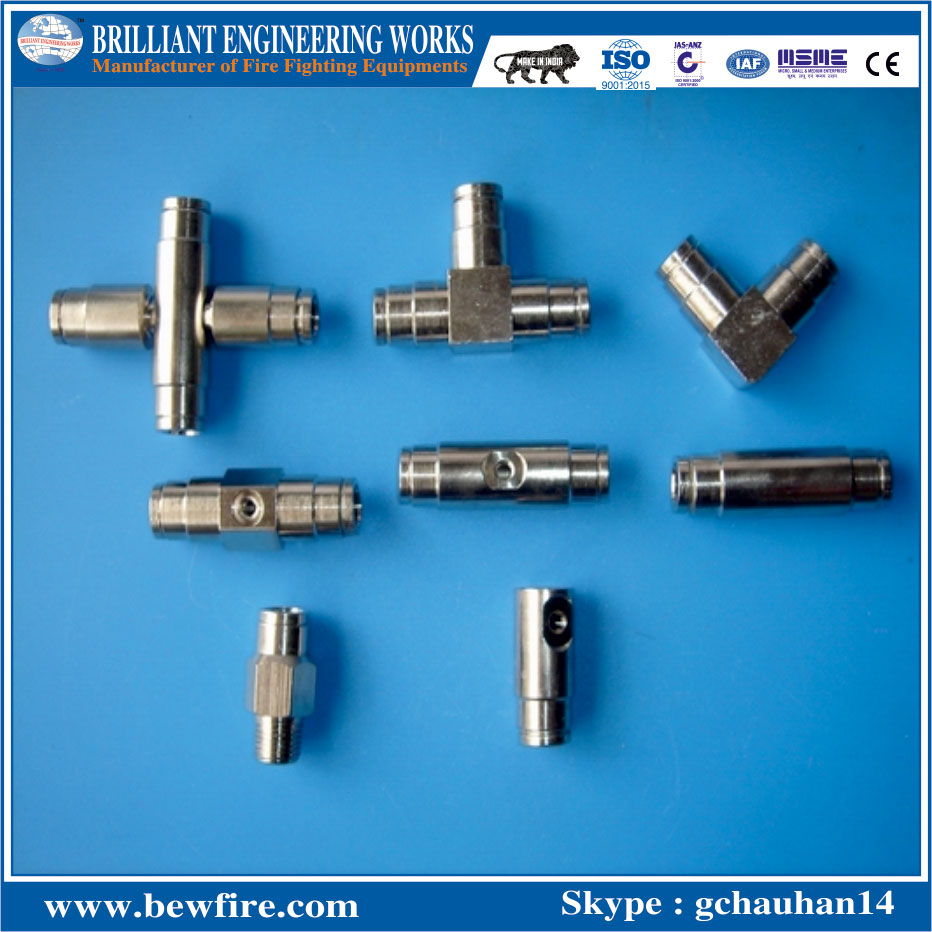 Micro Fine Misting System
Specifications
1.3/8" HP Fog Misting System
2.High Pressure & Low Pressure
3.Flow Rate:20-35cc/Min
4.Pressure 4 to 100bar/80 to 1000psi
High Pressure & Low Pressure Fine Fog Misting System, Cooling Misting System.
  1. Nozzle Material: Brass, SS
  2. Orifice:Ruby,Ceramic,SS
  3.Connection Type: Quick Slip Lock, Thread type
  4.Tube size: 3/8″ (9.52mm)
  5. Working Pressue: 9bar to 100bar (100PSI to 1000PSI)
  6. Droplet size: 5-40 Micron
    8. Fittings Models: Nozzle, Nozzle connector, Tubing, Tubing Cutter, Water filter, Tee, Elbow, End, End Plug, Union, Male/female adapter, ball valve and water filter, etc.
Ideal Spray Professional make high quality misting system kits for cooling and misting, DIY mist cooling system simple for any applications.
We also separately supply the Fog misting nozzle, connectors, coupling, tubing and pumps.
1. Fog Misting Nozzle:
Orifice diameter: 0.1mm up to 0.5mm
Working pressure: 6-70 bar
Body material: 304SS, brass and 316ss
orifice material: SS, ceramic and ruby
Inlet thread: 10/24, 12/24, 3/16 and 1/8
2. 3/8 Connectors,Fittings and Couplings:
Material: brass and SS
Nozzle thread: 10/24,12/24UNC
Tubing Size: 3/8″ (9.52mm)
Working Pressure: 70bar/1000PSI
3. Nylon Tubing & PE Tubing:
Outside diameter: 3/8″
Working Presure: 70 bar up to 120 bar
Temperature:40C.degree
4. Misting Pump Capacity:
0.3LPM, 1LPM, 2LPM,3LPM,5LPM,6LPM,7LPM,9LPM,11LPM,12LPM,15LPM,
17LPM,18LPM,21LPM,25LPM
5. Pump Specification:
Products Series  High Pressure – HP Pump
Item NO. HP-ID2803-FGS10 Outdoor cooling fine fogging system
healthier environmental quality!   indoor & outdoor cool

finest water droplet !

simple installation & easy user-interface and maintance!!

more compact !!!
Pump No. : HP

Pump : Plunger

Flow rate: 3.0L/min

Pressure: 60-80bar

Power: 800w

Rpm: 1400rpm

110 / 220 Volt – 50 / 60 HZ