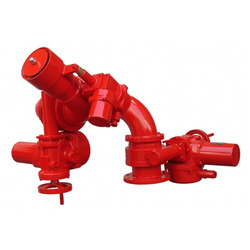 Remote Controlled Fire Water Monitor
Technical Specification:-
Capacity:1800m3/H
Type:Fire Fighting Monitor
Material:Stainless Steel
Other Details:
Electrically operated remote control water monitor consist of Stainless steel/ carbon waterways.
Geared swivel joints with suitable geared 230V-Single phase motor for Horizontal and Vertical movements.
12 V DC Linear actuator for nozzles jet and spray mode. suitable control panel.
Vertical and nozzle movements.
Wiring from motors up to junction box provided and from junction box to control panel shall be optional.
Overload trips for motors, limit switches protection for linear actuators and input protection.
Aluminium alloy hard anodized jet spray nozzle as per required capacity.
Mounting flange /two way intel shall have dimension suitable as your site .
Minimum Order Quantity: 10 Piece